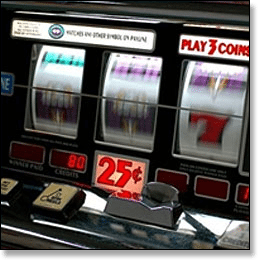 In terms of online pokies, there are two parent variations to the playing format; three reel pokies and five reel pokies.
Originally, all pokies followed the three reel format, but with advances in technology and gaming software, five reel pokies are now more common as they allow for greater winning combinations and advanced gameplay. More than just variety across reels, there are significant differences between three-reel and five-reel slots.
Brief History of 3-Reel Pokies
The first slot machines (or fruit machines as they were then known) originated in the late 19th and early 20th centuries and paved the way for the online slots games we know and love today. The first three-reel pokies machine named The Liberty Bell was invented by Charles Fey in San Francisco in the late 1800s and the game consisted of three reels displaying five symbols; diamonds, hearts, liberty bells, spades and horseshoes.
The player would manually pull a lever which would spin the symbols in the hope of landing on a winning combination. The design of The Liberty Bell was so popular it became one of the key pillars for all other slot machine manufacturers who followed in Fey's footsteps (see Sittman and Pitt's 1891 poker machine, too).
After many decades of advancing designs and improving machine features and pay options, the first video pokies machine was unveiled in Las Vegas in 1976. The game followed the standard three reel format, but now players weren't actually able to see the reels spin for themselves, as it all took place on screen. Players took time to warm to video pokies as they were yet to trust the technology. Eventually, video pokies grew in popularity and were added to Nevada casinos before spreading across the world and paving the way for the outstanding technological feats found in online pokies today, with the three reel version now being overshadowed by the popular five reel version.
Three-reel pokies are still common thought, and can be found at leading online casinos including Royal Vegas Casino, All Slots Casino, G'day Casino and Casino-Mate.
3-Reel vs 5-Reel Pokies
Whether you choose to play three-reel or five-reel pokies is entirely up to personal preference, with both variations bringing unique benefits and drawbacks.
Graphics and Special Features – The graphical difference between three-reel slots and five-reel slots is vast, with five-reel games trumping on account of their innovative animations, sounds, video clips and bonus features. The five-reel format is favoured by the big gaming software providers who bring to life pokies from popular movies and animated brands, typically offering more excitement and entertainment value than three reel slots.
Three-reel pokies still feature great design and attractive graphics, but the style remains true to the traditional fruit machines – a desire to pay tribute to such classics. Three reel pokies stick to the basics of the game without the bells and whistles offered by five reel versions, with sound effects similar to those you'd expect from older brick and mortar casino.
Volatility – Volatility in pokies refers to the balance between low risk an low reward compared to high risk and high reward. There is a significant difference in volatility between three and five-reel pokies. Five reel pokies have a higher volatility due to the fact the number of symbol combinations per spin increases, so your chances of winning the jackpot are actually lower, but if you do win, your winnings will be much higher. Five reel pokies are more suited to players out to win the big bucks.
Three reel pokies have a lower volatility and are therefore ideal for players who are either new to pokies, or who simply want to make their bankroll last longer and play on a more recreational level. Three reel games offer smaller wins, but with the potential to play for longer and they still offer some huge jackpots.
Paylines and Winning Combinations – With the addition of two extra reels, five reel pokies increase the number of possible symbol combinations, with a 1 in 100,000 chance of landing on a specific combination. Five reel games come with much higher jackpots due to the lower chances of landing on a major win given all the possible combinations. However, five reel pokies also offer payouts on many smaller combinations, so the player has a higher chance of taking out smaller wins.
Three reel pokies are much more simplified, with smaller jackpots but higher chances of winning. The payout percentage is generally the same with five reel and three reel pokies.
Gameplay – Both three and five reel pokies follow the same gameplay format, where the player is required to select a wager amount before spinning the reels in the hopes of landing on a winning combination. The main difference is the three reel versions are a lot more simplistic, following the traditional fruit machine format of matching basic symbols like playing card suits or numbers.
Five reel pokies have advanced far beyond just matching symbols. These games now offer a range of bonus games, free spins, exciting rewards and video features, and often divert from traditional payline games, instead using winning ways to increase the chances of spinning a winning combo. The symbols are much more complex and captivating and use state of the art technology to create animation of cinema quality.
Where Australian's Can Play Three-Reel Pokies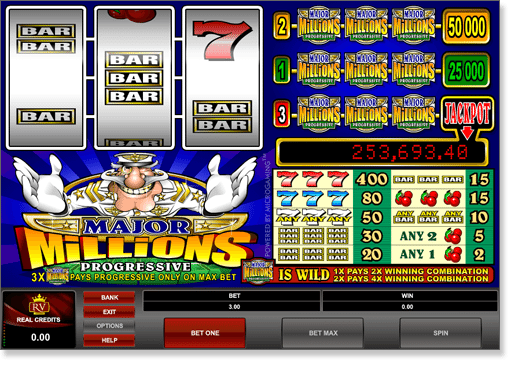 Aussies can play three reel pokies at a range of trusted online casinos for real money with a variety of payment methods available to use with AUD currency. There are some fantastic three reel progressive jackpot games, like Major Millions, with gigantic wins currently up for grabs. Head to one of the recommended casinos below and try some three reel and five reel slots games to see the difference for yourself and decide on a format right for you before laying down a real money bet.
Some 3-reel pokies games worth trying include:
Casino-Mate – Major Millions, Zany Zebra, Billion Dollar Gran and Gold Coast.
All Slots Casino – Fruit Fiesta, Cash Splash and Lotsa Loot.
G'day Casino – Mega Joker, Hidden Loot and Lucky 7.