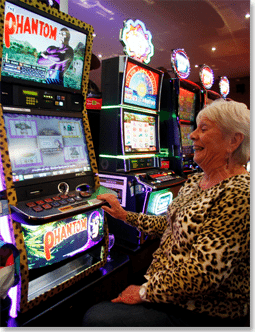 WHEN most people think gambling in Australia we automatically set our minds to two separate styles – horse racing and poker machines.
Horse racing is a massive industry, no question, but when it comes to gambling in this country, the iconic glow of an illuminated "POKIES" sign is what most of us identify with when it comes to having a flutter.
Whether it be having a tap down at your local after a pot and a parma, or heading into a bigger establishment to chase those big jackpots, pokies have a special place in the lexicon of modern Australian gambling.
Just two years ago Australians poured almost 12 billion dollars into venues – but that number is dwindling with the advent of online casinos and the ease in which players can gamble on their favourite machine from the comfort of their own homes.
However, to the uninitiated, poker machines may come across as frivolous spending and a waste of valuable time – nothing could be further from the truth! If a player sets themselves a limit and gambles within their means, there are very few activities that can be deemed as much fun as playing a machine.
Pokies Have Changed Over the Years
THE first thing you will notice about a poker machine if you have never played one before is "wow that screen is bright" and you would be completely right.
One of the main drawcards of the machines, which has changed a lot since the three reel Pub Fruity was a staple in Aussie pubs, is just how aesthetically pleasing they are.
The illuminated symbols, the flashing lights and the colourful, robust reels are designed to inflame the senses and give you the feeling of warmth. These elements can take you to a place where dreams are made.
The Sounds of Pokies Can Take You Away
EVEN before you see that bright screen, you will be able to hear that distinctive poker machine sound when you are within aural distance of a gaming lounge.
Gamers know precisely what this means, but to potential players, the intoxicating sounds and music that emanates from the machines are very immersive and draw you in from the moment you decide to have a flutter.
Furthermore, with some of the newer model machines, there is licensed soundtracks that give you that familiar feeling or that intangible sensation in your body that you cannot describe. They remind you of happy time and the gaming companies know this.
So while they pay top dollar to use these songs and sounds they have spent their money wisely.
From South Park to Batman – Licensed Games are the Best
MORE and more these days you will see machines based on certain TV shows, movies or other elements of pop culture.
In the past, a machine would draw you in based on a certain type of animal, an aspect of your native culture or something of that ilk, companies have begun to purchase the rights to popular movies, icons of the past and your favourite TV shows to get you to unload your cash.
You can find almost everything when it comes to officially licensed games, with machines based on old favourites like Back to the Future and Ghostbusters, popular figures from the past like Elvis Presley and popular TV shows like Sex and the City and the Flintstones.
Even new games like Immortal Romance and South Park: Reel Chaos offer online gamers the chance to experience their favourite themes – in the case of Immortal Romance vampire love, and with South Park, a realistic depiction of the TV show itself.
And finally, the one we've all been waiting for, Game of Thrones has been released by Microgaming, and almost every character in Westeros has a dance on the five reel machine.
If immersing yourself in pop culture when having a punt is what you are after, you will be sure to find a slot that fits your needs.
A Big Jackpot Can Make Your Day
WHO can honestly say the allure of winning a huge payout does not sound enticing.
While all machines offer the chance to win big sums of money, certain types will display a jackpot at the top of the screen; another inducement to draw punters in.
Online casinos tend to offer significantly larger jackpots than you'd find at traditional gaming establishments, with progressive Internet and mobile games reaching jackpots as high at $10,000,000.
When the spins are free, it's a grin spree
AS well as jackpots the chance to win free spins is something every player wants and aspires to get.
Free spins basically means, for the duration of the free spin period, or an allotted number of spins you have are given to you by the machine, usually generated by three symbols coming up on the reels or anything pertaining to that.
The thrill of winning free games is what keeps a lot of punters coming back to the pokies, and once you get it you will want to keep chasing that free spin dream.
So Many Games Means the Excitement Lasts Longer
ONCE you have made your decision to have a flutter, the next one will be deciding which game you are going to go with. Good luck with that. While land-based casinos have a range of pokies, the online pokie realm is not restricted in any way, shape or form to hosting a certain amount of machines. With games based on wildly popular and successful franchises like Game of Thrones, Terminator 2, Aliens, the allure of beautiful women such as what Playboy Multiplayer has to offer, along with custom designed titles such as Avalon, Immortal Romance and Thunderstruck, the choice of 500+ real money (and free play) slot games is entirely yours.
The beauty is each game offers its own unique experience.