Sometimes we want to live life on the wild side but we can't do that if we are always sticking to traditions. Traditional online pokies are fun, however spicing it up once and a while means we can experience the game in 243 Ways.
243 Ways pokies machines are a play on traditional pokies and can be accessed on most of our recommended online casinos.
How to play 243 ways online pokies? Traditional pokies require symbols appearing on pre-determining pay-lines to trigger a win, but with the 243 Way pokies, players are able win just by matching symbols from left to right across the reels, without any restrictions on where those symbols are placed on each reel.
With 243 possible winning combination it is clear where the pokies derived their name. Basically, on a five-reel game with three symbols displayed on each reel, there are 243 possible pay-lines – and since you can win on any of them, that means you have 243 ways to win.
The biggest advantage to this system is the requirement of guessing whether the arrangement of symbols on the screen fits one of a handful of predetermined pay lines. So as long as the same symbol appears on at least the first three reels, you'll definitely win a prize.
Simply put, 243 ways games gives online players more ways to win. Due to the high number of winning combinations you are more than likely to win multiple times on a single spin, and even if it is small eventually it could lead to quite a big overall prize.
How to bet to cover all 243 possibilities
Every game is different for 243 Ways pokies, and with so many winning combinations in 243-ways pokies, there will almost always be a minimum bet required to place in order to cover all the possibilities.
The majority of games will cost only a few cents. This doesn't necessarily mean that is how much each spin is though. The minimum bet is often around 20 or 30 coins. You then can play at different levels and multiples of that minimum amount will increase your potential winnings in turn.
Overall a typical 243 ways pokies can cost anything from under a dollar to $10 or more, depending which game you prefer and the options you've chosen.
What are the best 243 ways pokies?
Which 243 pokies you think are best will depend on your own preferences for prizes, themes, and game-play. However the following are a few of the most popular games available at Microgaming casino sites today:
The Dark Knight Slot Machine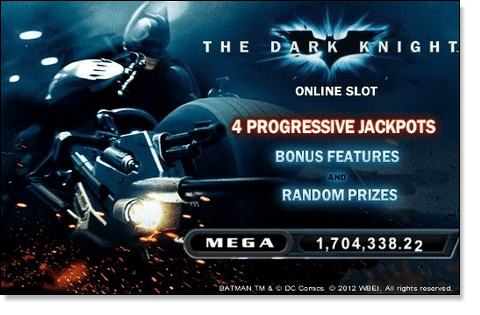 Capturing the hearts of women everywhere and inspiring men around the world to speak in a husky deep voice. In case you have no idea what I am talking about, Bruce Wayne, aka Batman aka Christian Bale, is from the critically acclaimed movie The Dark Knight (2008). Obviously online casino software providers, industry-leading Microgaming to be specific, caught onto its success and created a pokies game in 2012 dedicated to the superhero.
But they didn't just create any old pokies machine. Instead they created it so you could win in 243 Ways. The Dark Knight is a five-reel poker machine where players only have to pay one flat price to receive every possible winning combination. Since there are five reels and three positions on each reel, there are 243 possible winning combinations.
The game comes in two credit levels of one or two cents and you can choose to bet up to 10 credits per way. The minimum bet to get in on the action is 30 cents and the maximum you can play is $6 per spin.
With 14 different prize-winning symbols, ranging from tens through aces at the low end to nine different characters that award larger prizes. Batman's logo is the wildcard symbol and offers the largest prizes, with his payouts ranging as high as 4,000 credits if you can match five on a single spin.
As you play the base game either The Joker or Batman himself may suddenly pop up on your screen, when either of them do you are going to win a range of additional features or bonuses.
Additionally this 243 Way pokie is linked up to the Mega Moolah progressive Pokie game network, meaning you could be lucky enough to be awarded the Mega Moolah bonus game -all you have to do is complete a base game paid spin. However it is awarded randomly.
You can play the 243 Way Dark Knight version at our highly recommended online casino, Royal Vegas Casino along with other 243 Way titles.
Immortal Romance
This is another very popular 243 Way pokies with a dash of vampire popular culture added. We can't even count the number of vampire shows and movies on two hands anymore so it is obvious why Microgaming created this one. But even if you aren't crazy over vampires, this game has something for everyone with some huge jackpots on offer and four different types of free spins plus a random feature that can add up to five wild reels.
This game has music and characters which follow the genre, delivering an interesting experience for online casino players. If you inclined to Edward Cullen's brooding ways then this is definitely worth a go, as you can drool while also hopefully winning money at the same time.
Immortal Romance features an array of bonus features and we can score numerous free spin rounds which incorporate multipliers with generous payouts, while also featuring a Wild Desire bonus, which can often result in additional winnings.
You can also play this one at www.RoyalVegasCasino.com
Thunderfist
While we prefer Microgaming as our favourite software provider, it is always good to shop around and see what the market is offering. NetEntertainment is one to keep your eye out for as they also offers great online 243 Ways pokies including Thunderfist which can be played at Guts online casino.
Thunderfist has an interesting Chinese kung fu theme which is set in a bamboo forest -so if you are one for new and interesting themes this might be worth checking out. Thanks to the game featuring stacked wilds on every reel there is the chance of some huge multi way wins. The game also features a free spins bonus where wins are multiplied by between two and five.
Like most 243 ways games you do not have to bet 243 credits to play all ways. Instead a minimum bet of just 25 credits covers all possible ways. You can choose to bet up to 10 credits per way and also have the option of several credit levels ranging from one cent to 50 cents.
Look out for the martial artist wild card symbol which also stacks during both regular play and free spins for some truly impressive winning combinations across all 243 winning lines.
There is also the possibility of getting free spins. If you get three, four or five of the scattered Coin symbols anywhere on the screen and you win 10, 15 or 20 free games respectively. These free games also have the additional random multiplier between two and five. Unfortunately however the feature cannot be triggered again.
Our take on 243 ways pokies
These pokies do spice up the traditional playing field of normal pokies but be sure to know what you are getting yourself into.
Economically, they aren't the cheapest games to play as you have to play multiple coins. But the coin values do tend to be quite low and overall the price isn't that high to play with a lot of coins.
Additionally, it can be somewhat more difficult to keep track of your winnings due to the multiple winning combinations constantly providing winnings. Rather than bigger prizes on a couple of pay-lines, 243 Ways games tend to award numerous smaller prizes on any given spin. If you like big jackpot prizes, these games might not be for you. On the other hand, many newer games of this style offer bonus rounds and progressive jackpots that can award very large prizes.